1. Introduction
The most important task performed by Checkmk's user interface is displaying the current status of hosts and services. This is achieved largely with tabular views. In order for the daily operations to run as efficiently as possible, these tabular views offer numerous functions, and they can be customised to meet your requirements.
We distinguish between global views and those that require a context. Global views can always be directly called up. An example of a global view is the list of all current service problems. A context view — the Status of Host …​ view for example — namely needs to specify by name the host whose status is to be displayed. Such views can only be called-up in situations relevant to a particular host.
The global view is most easily accessed via the Tactical Overview and Views. In the tactical overview each number is clickable and takes you to a global view that individually lists the hosts or services counted in each case.
In the Views element all global views are accessible — grouped according to theme. In addition you will find a few entries that aren't actually Views — such as for example, the Dashboards, which are sorted under the Overview theme. Dashboards can however contain views.
From a global view, with a further step you can access the details for a particular host or service. On the one hand, the names of hosts and services and the individual cells in other columns are clickable for more detailed views: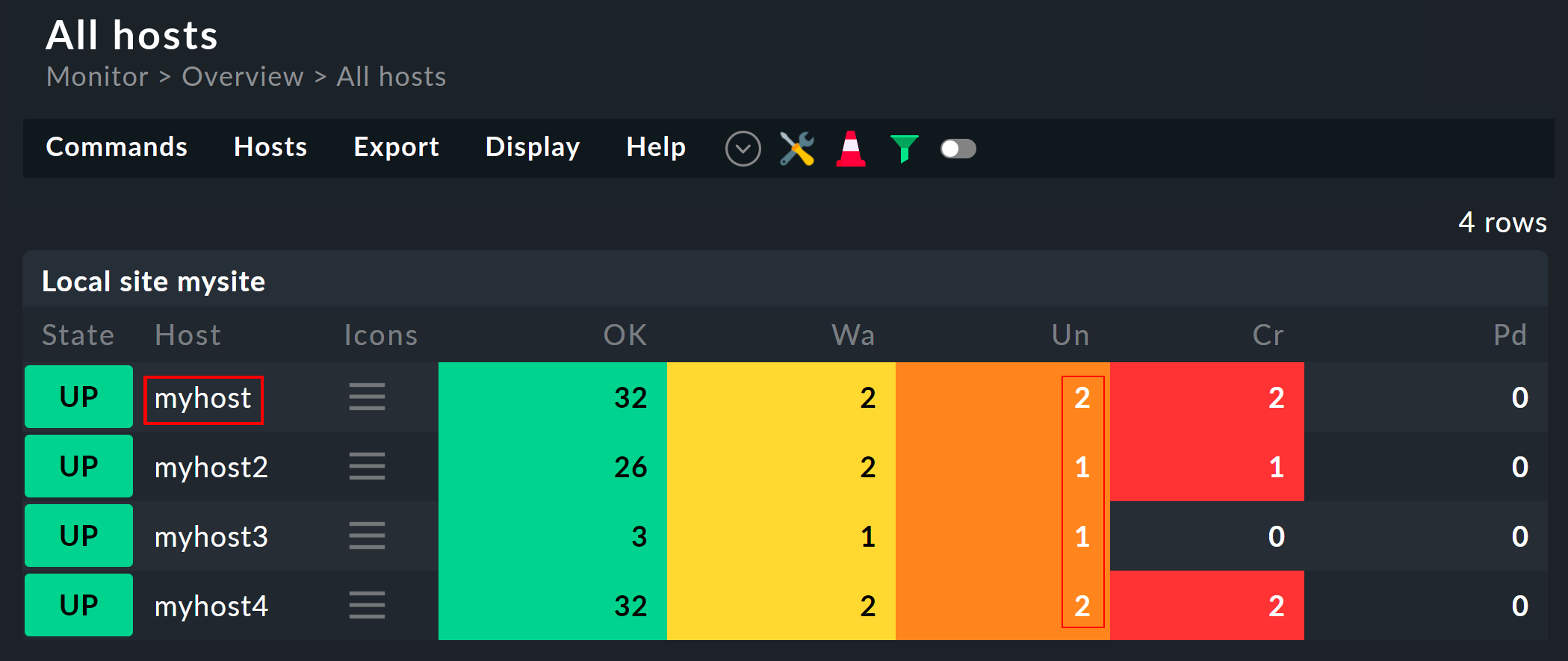 On the other hand, at the top of views that relate to a specific host or service you can find a row of buttons that can be opened with
. These buttons then open further views with the same context — meaning those from the same host or service.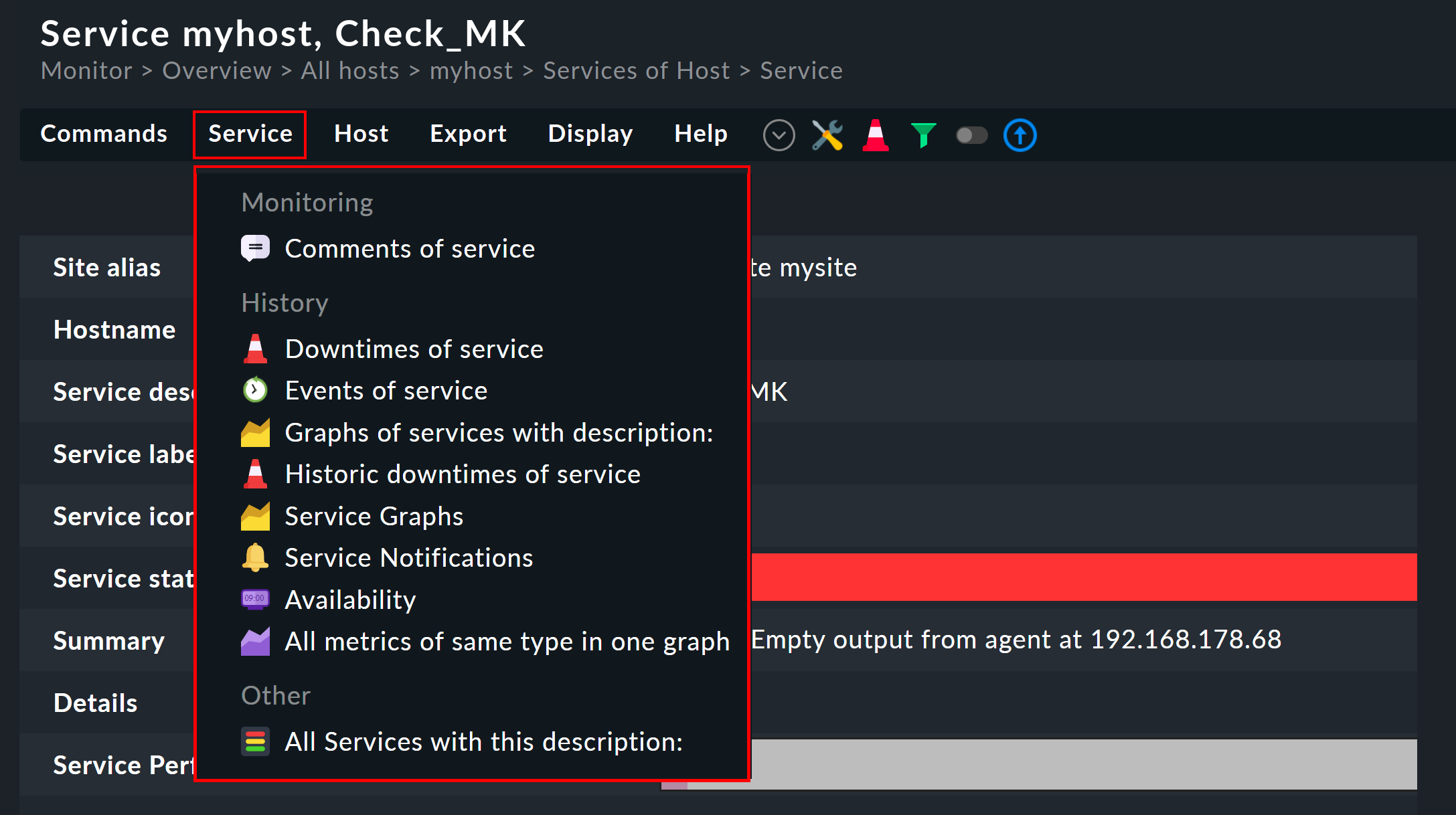 Another way to the detailed view is via the quicksearch snapin in the sidebar:
Which view you receive will depend on the result of the search. If the search identifies a host explicitly, you will reach this host's Services of host …​ page directly. There you will again find the buttons for the other views of this same host. A click on the host's name takes you to the view Status of Host.

4. Creating new views
Creating a new view with
functions in principle just like the editing of an existing view — with a small difference: you must first select a data source and a specific object type.
4.1. Data source

The data source is what you might call a table or database view in databases. Checkmk does not use SQL-Data bases, but it is similarly-structured internally. In most cases you will be correct with All services or All hosts. There are however a few data sources that should be listed briefly:
| Data source | Meaning |
| --- | --- |
| Host and service groups, various | see below |
| Alert Statistics | link:livestatus.html#Statistiken abrufen (Stats)[status statistics] |
| BI, various | |
| Event Console, host and service events | |
| Inventory, various | |
| The Logfile | |
Host and service groups
The data sources Hostgroups and Servicegroups — per line — provide the information about the group itself — accordingly there are no filters for individual hosts or services. An example of this data source is the standard Host groups (Summary) view. In distributed environments the data sources Hostgroups, merged and Servicegroups, merged do exactly the same.

However, if you want information about individual hosts, just grouped by host groups, you can use Hosts grouped by host groups. Here each host is listed once for each group it belongs to, as seen in the default view Host groups. In the world of databases one would speak here of a Join of the Hosts table with the Hostgroups table.

You can proceed in the same way with services: Services grouped by host groups corresponds to a Join of the Services table with the Hostgroups, and Services grouped by service groups accordingly with the Servicegroups table.
Depending on the selected data source, different columns are available for building the view.
4.2. Object type — global or with context

Here it can be decided whether your new view should have a context or if it will be a global view. The selections available to you depend on the data source. The most common context by far is 'Host'. The image above appears after selecting the All services data source.
Checking the Show information of a single host box defines that the new view describes one specific host. Thus you have created the basis for a view that is not globally-visible, but instead visible via a link:
For a host view with a context button (possibly hidden behind )

As a link in a column (see above, e.g., click on a host name in a view)
There are two options for the Service context type. If you select only Show information of a single service, you can build a view that displays all services with the same name on different hosts. If it should be a specific service for a single host, then check the Show information of a single host box.
5. The matrix
When you specify the Matrix layout in one of your views you will probably see strange things at first, and ask yourself what is going on. The matrix is certainly not intuitive on first viewing, but you can achieve good things with it.
In the supplied standard views there is one that utilises this layout — and that is Metrics ⇒ Search peformance data. The following image shows how I searched for the CPU|Memory|Filesystem service printout in this view in my test system:

The result is a neat table of my hosts, in which all of the service's metrics are listed adjacent. Not all hosts have the same services, so some of the fields are simply empty:

The result at first looks very similar to that described somewhat earlier Information for services in a host view. There are a couple of significant differences however:
The list of services is dynamic and has no fixed configuration.

Here the hosts are the columns — not the lines.

With the matrix you can do much more.
When you look at the view's definition you can see how it is constructed:
Matrix is specified in Basic layout.

The Hostname is specified as the only column in Grouping.

In Columns the Service description and the Service Perf-O-Meter are specified.
The rule for the matrix layout is:
The Grouping columns are used as headings for the vertical columns.

The first normal column on the left provides the titles for the lines.

All further normal columns are shown in the cells.
If you, e.g., wish to display more information about the host, simply add more columns in the Grouping section. Thus the table from above will look like this when you insert the Host icons and WATO folder — just folder name columns:

Further normal columns then land directly in the cells. The following example shows (abbreviated) the matrix with the additional Output of check plugin column:

5.1. Recognising outliers
Why do some cells have a coloured background? This alerts you to values lying outside the majority. This is actually not so meaningful for measurement data, but there are, for example, users with a specially-constructed matrix who can tell at a glance if an incorrect contact group has been entered for certain hosts or services!
6. Alarm sounds
A view can sound an alarm tone over the browser if at least one problem appears in the table (a host that is not UP, or a service that is not OK). This primitive type of alarm is, e.g., interesting for control centres where there is always a list of problems on a screen that the operator doesn't want to be continuously staring at.
The alarm sounds are deactivated by default. You can switch them on with the Global settings ⇒ User interface ⇒ Enable sounds in views global switch. As always the search field helps here:

Sounds will not be heard in all views, rather only in those for which sounds are activated in View Properties: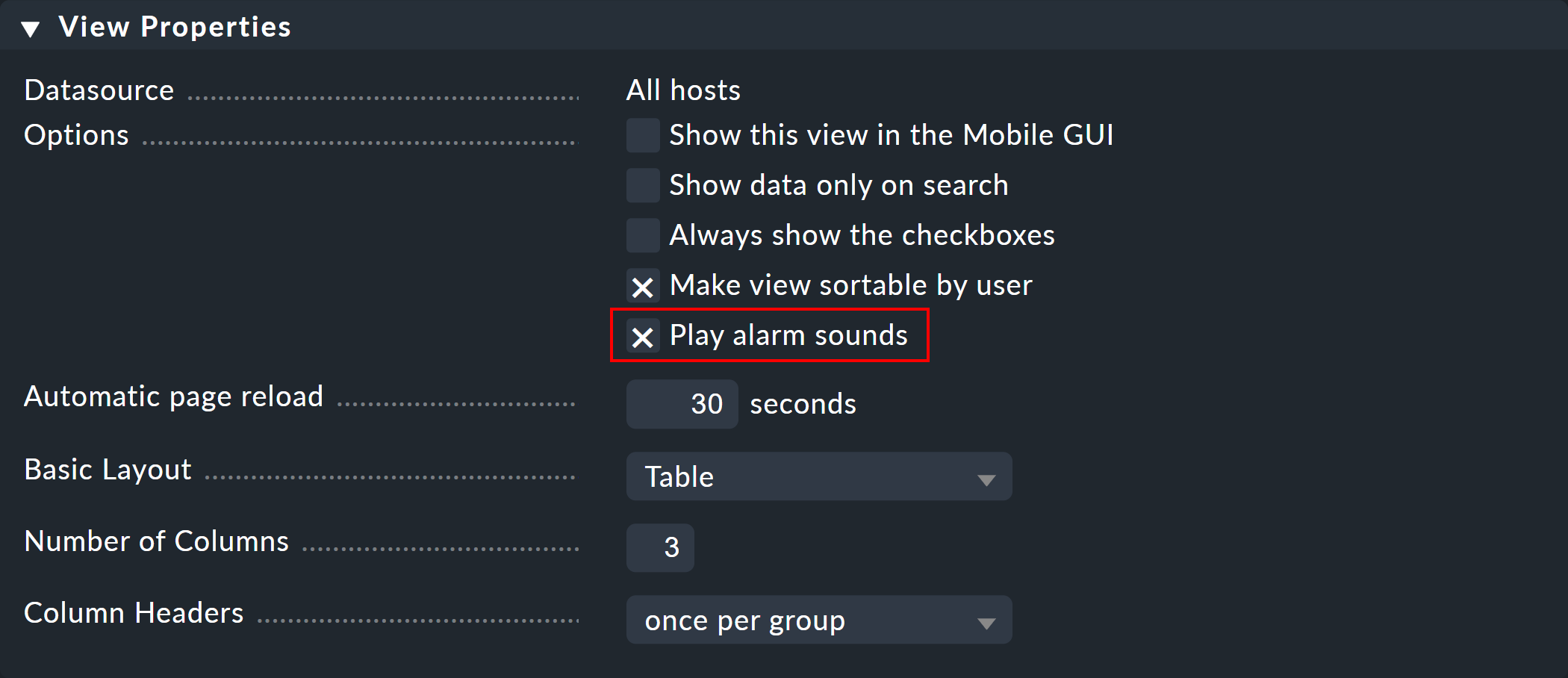 7. Embedding views in external websites
Since every view is accessible via a URL you can also embed these in other websites, for example, via an <iframe>. A number of elements in a view however make no sense or are even distracting in such a context. In a case like this you can attach a display_options=…​ variable to the URL, via which you can precisely control which component of the view should be generated in HTML code.
Every component is coded with a letter. If you use lower case letters the denoted element will be deactivated and all those remaining will be created (effectively an 'opt-out'). With capital letters this situation is reversed: here with capitals you nominate only the elements to be created ('opt-in'). A mixture of upper and lower cases makes no sense.
The following letters have been defined:
| On | Off | What will be displayed? |
| --- | --- | --- |
| H | h | HTML headers and footers including the <HTML>, <HEAD> and <BODY> tags |
| T | t | Title line with a heading and the logged-in users |
| B | b | Context buttons that link to other views |
| F | f | Buttons that open the filter |
| C | c | Buttons that open the Command box, and likewise icons for executing commands |
| O | o | The setting-wheels for the number of columns and for screen-refresh |
| D | d | The button for a display's options |
| E | e | The button for editing the view |
| Z | z | The footer in which refresh: 30s will appear |
| R | r | The Javascript code for the automatic refresh |
| S | s | The playing of alarm sounds for the WARN and CRIT service states |
| I | i | Links to other views |
| X | x | All other links |
| M | m | With this option links are assigned the main HTML-frame as their target. Checkmk itself uses this when embedding views in dashboards. |
| L | l | Links in column headings |
| W | w | Limit and live status error messages |
For example — if you want to switch off all control elements and buttons and only display the actual table, a link on the allhosts view will look like this:
8. Adding your own icons and actions
In views of hosts and services you will also see a column for icons, and in this the

Action menu icon with which you can select host or service actions. You can also add your own icons to views. These can be used simply for visualization, or your own actions can be assigned to them.
For example, hosts with a graphic web interface can be quickly identified using such an individual icon and can also be controlled directly via a link.
The procedure for adding your own icons and actions is divided into three steps:
Upload the icons

Define the icons/actions

Assign the icons to hosts/services
Start with WATO ⇒ Custom Icons and upload a local file with a maximum size of 80x80 pixels. The icon is now in the system, but is not yet in use.

Now you have to define the icon as an object that can be addressed via rules, and optionally, an associated action. You can find the settings under WATO ⇒ Global Settings ⇒ User Interface ⇒ Custom icons and actions. Create a new entry here using Add new element, and define ID, Icon and a title; The title will later be displayed as a tool tip directly on the icon via on-mouse-over-effect, and is therefore indispensable for users.
Now it gets interesting with the point Action. Action is equivalent to a URL, and for this you can use some variables like $HOSTNAME$ or $SERVICEDESC$ (service-description) — you can get further information from the online help. A valid action would be, for example, view.py?host=$HOSTNAME$&site=mysite&view_name=host, which is simply the standard host view for the respective host on the mysite page calls.
With a check mark at Show in column you can then display the icon as an independent icon next to

, otherwise your action will end up in this action menu.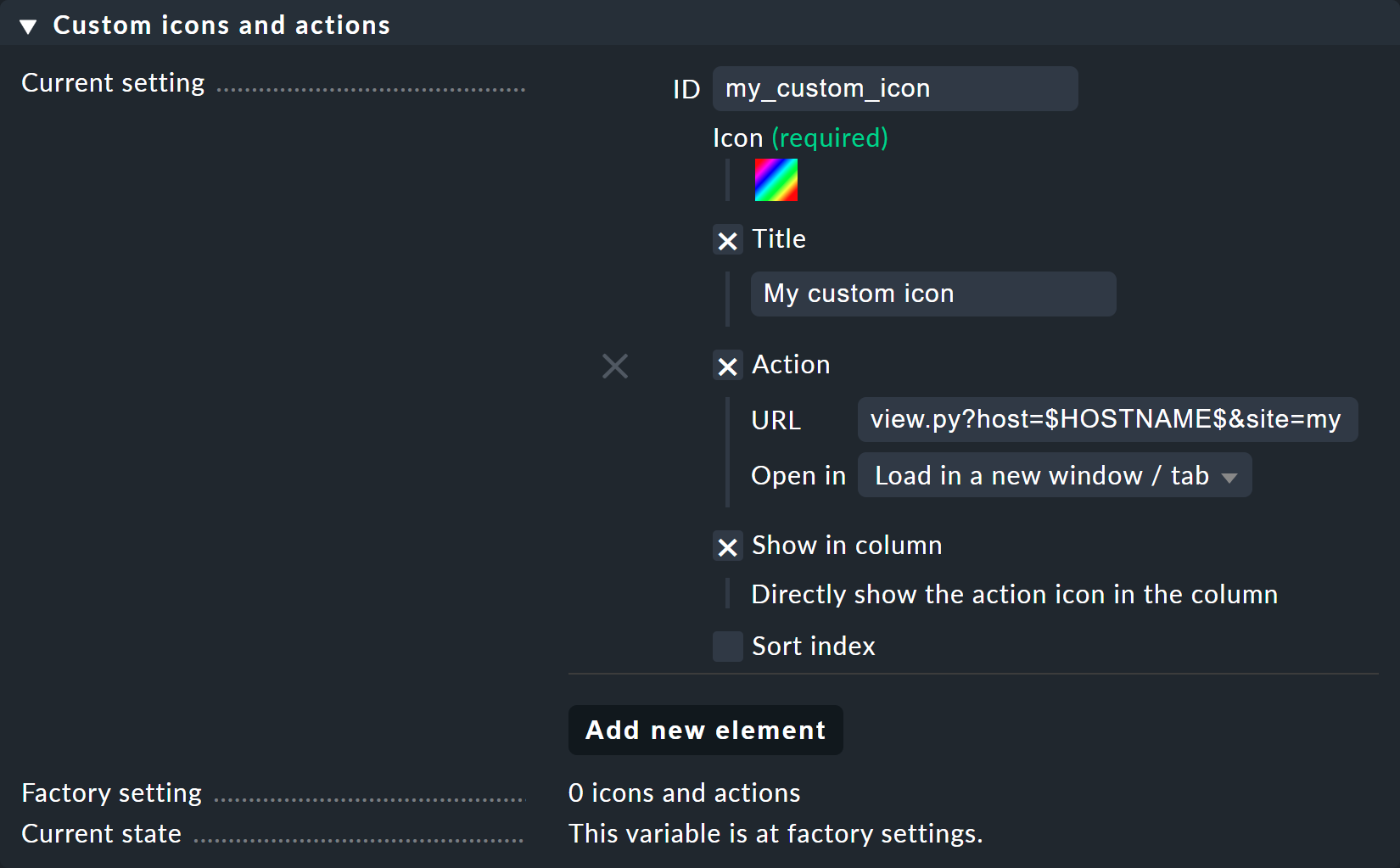 In the last step, you now determine which hosts or services the new icon is to be displayed for — specifying these using rules of course. You can find the two rules Custom icons or actions for hosts in status GUI and Custom icons or actions for services in status GUI under WATO ⇒ Host & Service Parameters ⇒ User Interface. Create a new rule in the desired folder and set at least two options in it. First select the icon just created under Custom icons or actions for hosts in status GUI, then as usual, filter in the Conditions area for the desired hosts/services. Finally, save and confirm the changes.

In host and service views you will now be able to see your new icon next to or in the action menu for the filtered hosts and services.