1. What is NagVis?
In the article on Monitoring basics you saw the map of a network's topology based on Parent-Child-Relationships. NagVis is responsible for such maps. The Nagios-Extension enables a visualisation of, for example, infrastructures, servers, ports or processes.
NagVis' mode of operation is basically very simple: Checkmk, or to be more precise Livestatus, provides backend data such as hosts, services, host groups and service groups. These elements from your monitoring can be placed as icons on various maps. These dynamic icons can then show the current status of each of the hosts and services. More detailed additional information can be provided by hover-menus. And finally, the icons and other elements are also links to the Checkmk-objects that they represent. Other available elements are lines, performance displays (Gadgets) and containers for external contents.
To get a better conception of what can be achieved with NagVis in Checkmk, here are three examples:
Geographic maps based on Open Street Map for managing sites

Automatic topological maps from Parent-Child-Relationships

Maps of individual switches or server rooms to enable an overview of ports and hardware
Provided the Parent-Child-Relationships have been defined, without further action you can call up a map from the basic articles using Views ⇒ Overview ⇒ Network Topology in the navigation. Aditional steps are unnecessary here.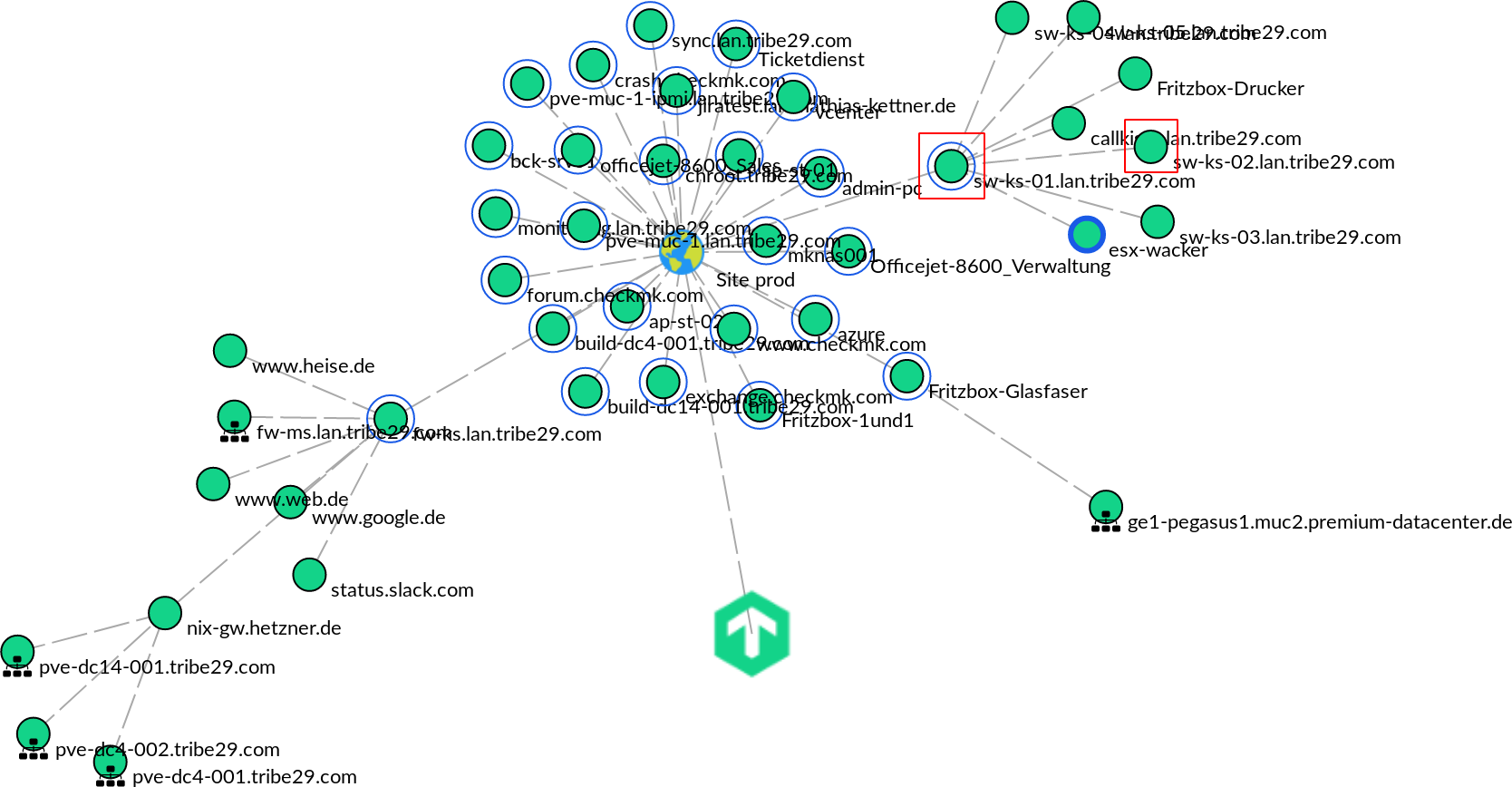 2. Setting-up NagVis
NagVis is fully-integrated in Checkmk and configured so that you can immediately begin adding elements from your monitoring to maps.
To start NagVis, first open the section with available Sidebar-Snapins using the
button at the lower left of the navigation. Here select the NagVis Maps snapin, and finally start NagVis with the

button.
Before you create your first map you should have a look at the basic configuration in Options ⇒ General Configuration. Here can be found over 100 options for the basics, such as data formats and language settings, from the displaying of objects on maps, to the weighting of the available host and service statuses. All options are explained in the <ahref="http://docs.nagvis.org/1.8/en_US/index.html">NagVis-Documentation</a>.
At this point we would like to do without a comprehensive description for the use of NavGis, and especially its configuration options. NagVis itself has a very good, detailed <ahref="https://www.nagvis.org/doc">Documentation.</a> In the following section we will restrict ourselves to the most essential basics for generating simple, useful maps using NagVis in Checkmk.