1. What is SNMP?
1.1. SNMP instead of a Checkmk agent
Routers, switches, firewalls, printers, appliances, UPSs, hardware sensors, and many other devices do not allow the installation of a Checkmk agent. They do however already have a built-in interface for monitoring provided by their manufacturer — an SNMP agent. This agent can be accessed via the Simple Network Management Protocol (SNMP). Checkmk uses SNMP to monitor such devices. The benefit for you is that setting up the monitoring is very easy.
Incidentally, there are also SNMP agents for Windows and Linux. However using these instead of the Checkmk agent is not recommended. SNMP is not very performant, so using this for monitoring generally means that the Checkmk server needs more CPU and memory per host than when working with its own agent. In addition the data provided via SNMP are incomplete.
Monitoring SNMP devices with Checkmk is very easy. If you just want to get started quickly with SNMP, you will probably need to read the short section on SNMP in the Getting Started Guide. This article goes into much more depth, and shows you all of the details and special cases when SNMP monitoring with Checkmk.
1.2. SNMP Versions
The SNMP protocol is available in different versions. These are all incompatible with each other, and so the monitoring system and the monitored device must always use the same protocol version consistently. Checkmk supports versions v1, v2c, and v3. In practice, an estimated 99% of installations use v2c. Here is an overview of all relevant versions of SNMP:
| Version | Features | Checkmk | Description and application in practice |
| --- | --- | --- | --- |
| v1 | | yes | Use only on very old (say, 10 years and older) devices that do not support v2c, or their support for v2c is defective. |
| v2c | Bulk queries, + 64-Bit-Counter | yes | This is the standard in practice. v2c is a 'light' variant of v2 and the 'c' here stands for Community, which performs the role of a password in SNMP. The 64-bit counters are essential in monitoring switch ports with 1 Gbps and more. The bulk queries accelerate monitoring by up to a factor of 10. |
| v2 | Security | no | Version 2 offers even better security options in addition to the features of v2c. Version 2 of SNMP is not found in practice, therefore CMK does not support this protocol version. If you need security use version 3 instead. Attention: Since the 'real' version 2 has no relevance, many masks in Checkmk refer simply to v2, but always really mean v2c. |
| v3 | Security, +Context | yes | Version 3 is used when encrypting SNMP traffic. With v2c and v1 this runs in plain text – including in the community. In practice, version 3 is rather less common, because this version requires significantly more computing power, and also the cost of the configuration is significantly higher than with v2c. The Contexts are a concept in which different information is visible in the same area of the SNMP data structure (OID), depending on the context ID. This would be used for partioning of fibre-channel-switches for example. |
1.3. SNMP-Traps
Checkmk uses active requests for SNMP monitoring. Checkmk sends a UDP packet (port 161) with an SNMP request to the device requesting the provision of specific data. The device then responds with a UDP packet containing the response data (or an error message).
But SNMP has a second variation: SNMP Traps. These are spontaneous messages sent by devices at configured addresses via UDP (Port 162). Traps have many disadvantages over active requests, which is why they are not very important to monitoring. Some of the disadvantages are:
Traps are not reliable. UDP packets can be lost. There is no confirmation of receipt.

Mostly only Error messages are sent, but no Recovery messages. Thus the current status in the monitoring is unclear.

If thousands of switches simultaneously send traps (for example, if an important upstream service is not available for them), the trap receiver will not be able to handle it and will break under the load. Monitoring is then overloaded when you need it most.

When changing the trap receiver's IP address, all devices must be reconfigured.

Traps are hard to test. Few devices even have a function to send a generic test trap – let alone test real error messages. Therefore it is difficult to predict whether an important trap will be processed correctly when its first invocation is after a few months or years.
However if you want or need to work with traps, the Event Console provides a solution. This can receive traps and generate events from them.
3. When devices create problems
3.1. A defective SNMP-Implementation
It actually seems as if any conceivable mistake that can theoretically be made when implementing SNMP has already been made by some manufacturer at some point! And so there are devices with which SNMP works reasonably well, but certain parts of the protocol do not, or have been incorrectly implemented.
No response for a request to sysDescr
One possible error is when SNMP agents fail to respond to the request for standard information — no reply to the sysDescr for example. These devices are as good as dead in a diagnosis, and they will not deliver any results to a service recognition if you don't help them with a special configuration. To do this, for affected hosts create a rule under Access to agents ⇒ Hosts without system description OID with Positive outcome. Checkmk then simply assumes that everything is fine and skip the test with the sysDescr. Although no check plug-ins will be detected that expect specific parts in this text, in practice this does not matter as the affected plug-ins are designed to accommodate such a condition.
V2c works, but bulk-requests fail
Some devices support version v2c — and will provide an answer to this in the diagnostics — however, the implementation of the GetBulk command is missing in the protocol. This is used by Checkmk to get as much information as possible with a single request and is very important for the performance.
With such a host, some simple SNMP checks will work — such as SNMP Info or SNMP Uptime, but other services will be missing — especially the network interfaces that must be present on each device.
If you actually have a host where this is the case, you can run it with v2c, but without bulk requests. Configure such a host as follows:
Set the SNMP version for the host properties to SNMP v1

In the Access to agents ⇒ Legacy SNMP devices using SNMP v2c rule chain, create a rule for the host, and set the value typically to Positive match (Add matching hosts to the set).
This forces the host to use the SNMP v2c protocol — although version 1 has been set — however without Bulkwalk. Incidentally, we do not recommend the use of SNMP v1 — even if that is supported — because it does not support 64-bit counters. This can lead to missing or erroneous measurement data for network ports which are subject to heavy traffic.
Devices which respond very slowly
There are some devices with which some SNMP queries need a very long time. This is partly due to incorrect implementations. Here it can sometimes help to go back to SNMP v1 – which is usually much slower, but can still sometimes be faster than a broken SNMP v2c. Before you try this however, you should check whether the manufacturer provides a firmware upgrade that solves the problem.
A second cause may be that the device has very many switch ports, and also a slow SNMP implementation. If you only want to monitor very few of the ports (only the first two ports, for example), you can manually limit Checkmk to polling only specified ports. Details can be found below in Performance.
3.2. Only the standard services are found
You have included an SNMP device in the monitoring but Checkmk recognizes only the SNMP Info and SNMP Uptime services and the interfaces. This can be due to a number of causes:
a) There are no plug-ins
Checkmk provides nearly 1,000 check plug-ins for SNMP devices, but even this list is naturally never complete. Over and over again it is found that for certain devices Checkmk does not provide any specific plug-in, meaning you can only monitor the standard services as mentioned. Here you have the following options:
You might find a suitable plug-in on the Checkmk Exchange, where users can upload their own plug-ins.

You can develop your own plug-ins.

You contact our support team or one of our partners and request that they develop suitable plug-ins.
b) The plug-ins cannot be recognised
It sometimes occurs that a new firmware version for a device results in Checkmk plug-ins no longer recognizing the device — e.g. because a text has changed in the system description for the device. In such a case the existing plug-ins must be adapted. Contact our support team for this.
c) The device does not deliver the required data
Some (few) devices have the ability to individually-configure access to specific information areas in their SNMP configuration. Your device may be set to deliver the default information, but not that for the device-specific services.
On a few devices you must use SNMP v3 and Contexts to get the data you want.
3.3. Devices that do not respond at all to SNMP
If the ping works, but none of the SNMP protocol versions work, there can be several possible causes:
The device is not reachable via IP at all. You can check this with the Ping Test (first box).

The device does not support SNMP at all.

The SNMP share is not configured correctly (activation, allowed addresses, Community).

A firewall blocks SNMP. You need UDP port 161 to be active.
4. SNMP v3
4.1. Security
By default SNMP is unencrypted and is therefore very poorly-authenticated by a Community transmitted as plain-text over the network. This level may still be sufficient for a local, isolated network, as here monitoring is limited to accessing read-only operations.
If you still want a higher level of security you will need SNMP version 3. This provides the possibility of encryption and genuine authentication. For this however a corresponding configuration is also necessary.
SNMP v3 recognises various levels of security:
| | |
| --- | --- |
| noAuthNoPriv | No real, user-based authentication, no encryption. Nonetheless, the advantage over v2c is that the password is no longer transmitted in plain text, instead it is hashed. |
| authNoPriv | User-based authentication with a name (Security name) and a password, but no encryption. |
| authPriv | User-based authentication as with authNoPriv, and additionally all data is encrypted. Here you have to manually exchange a Key — that is, deposit the Key both in the device and in Checkmk. |
The necessary setting in Checkmk is made in the same place where you also defined the Community — either under the host tags or the SNMP credentials of monitored hosts rule set. There, instead of SNMP Community, select one of the three levels of v3 and configure the necessary values: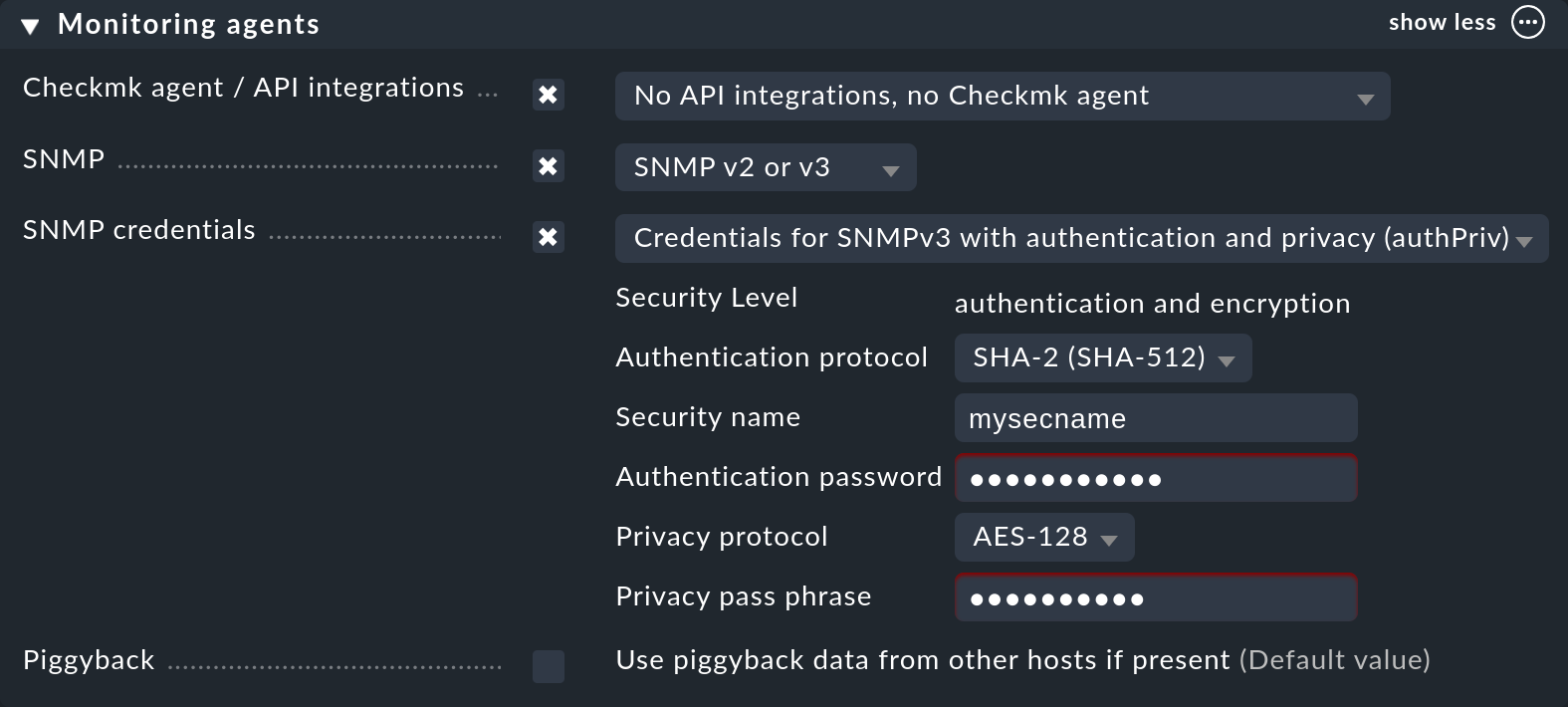 4.2. Contexts
SNMP v3 introduces the concept of Contexts. A device can show different information at one and the same point in the SNMP tree — depending on which Context ID is given in the query.
If you have a device that works with such contexts, you will need two settings in Checkmk:
First, the device must be queried using SNMP v3 (as described in the previous section).

Then you need another rule in the rule set SNMPv3 contexts to use in requests. Here you select the check plug-in for which contexts are to be activated, and then the list of contexts that should be queried in the monitoring.
Luckily there are very few situations in which you have to work with contexts, because unfortunately it is not possible for the monitoring to recognize them automatically. A manual configuration of the contexts is always necessary.