The smooth operation of IT systems has always been a challenge. Both the complexity of the hardware and software stacks, as well as the demands of users continue to increase — regardless of whether you work with real hardware or with cloud solutions. These days a detailed and comprehensive IT monitoring solution has become a central role in an efficient organisation.
The requirements that users expect from their monitoring are of course as complex as the IT world itself. From its very beginning Checkmk has been developed for large and heterogeneous IT landscapes. That is why it offers a wealth of features and capabilities in order to meet all of the challenges to be found in an organisation. For entry-level users the comprehensiveness of Checkmk can at first be overwhelming.
So that you can nevertheless get your first Checkmk monitoring system into operation quickly and easily, we have broken the Checkmk User's Guide into two parts:
The Beginner's guide takes you step by step through Checkmk, and it is structured so that you can read it quickly from start to finish, and can then begin working with Checkmk. That is why the guide is also short and concise, and contains no distracting, unnecessary details. At the end of the guide you will have a working Checkmk system. In the last section, some of our experienced consultants will show you a few very useful tips and tricks which have proven themselves in almost every Checkmk installation.
Of course, our beginner's manual leaves many questions unanswered. Answers to these can be found in the manual's reference section. There for each topic you will find all the background and details to gain deeper knowledge.
4. Checkmk in Operation
4.1. Important Functions in Operation
We have included hosts in the configuration, and we have looked at the operation of the status interface. Now we can start with the actual monitoring. It's important to bear in mind that the purpose of Checkmk is not to constantly occupy staff with its own configuration, but to support an IT department.
Now the different status views show you exactly how many and what problems there are. However, for the illustration of workflows, and for 'working' properly with the monitoring we need something more:
In this chapter, we will start with only the first two elements. The alerting will be handled separately later — with good reason, as we will see.
4.2. Acknowledging Problems
In the Tactical Overview we have already seen that problems can be either unhandled or handled. An Acknowledgment is the action that changes an unhandled problem into a handled one. That does not necessarily mean that someone really cares about the problem. Some problems even disappear by themselves. But acknowledging them helps you keep track and to establish workflows.
What exactly happens when you acknowledge a problem?
The host/service will no longer be listed in the third column in the Tactical Overview.

The default dashboard also does not list the problem.

The object is marked with the icon in status views.

By acknowledging, an entry is made in the object history so that you can follow it up later.

Repeating alarms (if configured) are stopped by acknowledgments.
Acknowledging individual problems
So, how do you acknowledge a problem? Well, first open it in a status view. There are two ways of acknowledging — the first way is the best if you just want to acknowledge a single problem. To do this, click through to the details of the host/service — thus the view titled …​
Status of host myhost123 in the case of a host

Service myhost123, FOO Service in the case of a service
Now click on the
symbol at the top. This will open a number of input fields through which you can take numerous actions on the displayed host/service. The searched-for object is the field at the top:
Enter a comment here and click on Acknowledge — and after the obligatory "Are you sure?" question…​
… the problem will be considered as acknowledged. Here are some hints:
You can also remove an acknowledgment with the Remove acknowledgment button.

Acknowledgments can automatically expire. The Expire Acknowledgment after …​ option provides for this.
Acknowledging several problems simultaneously
It's not that unusual to have a number of (related) problems needing to be acknowledged at the same time. This can be handled almost as easily. Call up a status view which shows all of these problems. Sometimes that works with Quicksearch, and the Services ⇒ Service Search view is somewhat more flexible.
Once you have got a view of the exact services to be acknowledged, simply proceed as described above. The command will be automatically applied for each of the services shown.
However, if you need a specific selection, with a click on
you can open a checkbox for each line. Check the required hosts or services boxes, and then execute the command.
Attention: Never forget that commands are always performed on ALL displayed objects if you have NOT activated ANY checkboxes!
4.3. Downtimes
Sometimes things have not been broken accidentally, but on purpose. Or as we prefer to say, the problem is expected. For example, every piece of hardware or software must be serviced occasionally, and while the necessary maintenance work is being performed the affected host or service in the monitoring will of course, go to WARN or CRIT.
For those who need to respond to problems in Checkmk, it is naturally very important that they know about the planned downtime and thus valuable time is not wasted with 'false alarms'. To ensure this CMK uses the concept of maintenance times. In English these are called Scheduled Downtimes (and in many locations you will occasionally see the shortened form Downtimes, which actually only means that a host is DOWN or a service is CRIT), but deliberately so.
So, if maintenance is required on an object, you can put it into maintenance — either immediately or for a selected period in the future. This is the same as for an acknowledgment, but in this case is entered in the Downtimes field:
There are a whole bunch of options for maintenance. A comment must be entered in every case. By selecting the appropriate button you can start and end a maintenance time. For example, with the 2 hours button the object is declared as 'in maintenance' for two hours starting from the current time. Unlike the acknowledgements, maintenance times always have an end time that is set in advance.
When you put a host into maintenance, all of its services are automatically considered to be in maintenance. You therefore save yourself the work of doing it multiple times.

If you use the Checkmk Enterprise Editions, you can also define regular maintenance times (for example, due to a mandatory reboot once a week).

The flexible downtimes start automatically only when the object actually assumes a non-OK state.
Here are the effects of a maintenance time:
The views will display an icon for the affected hosts/services.

Alerting of problems is disabled during maintenance.

Affected hosts/services no longer appear as problems in the Tactical Overview.

Scheduled maintenance times are considered separately in the availability analysis.

At the beginning and at the end of a maintenance period, a special alert is triggered to inform you.
Further information about maintenance times can be found as always in its own article.
8. Extending the monitoring system further
With the setting up of notifications you have completed the last step, and your Checkmk system is ready! The possibilities within Checkmk are of course not yet exhausted at ths point. There are many more ways to continue the expansion of your monitoring.
8.1. Optimizing security
Even if monitoring is 'only watching', the subject of IT security is also important. In the reference section you will find a security overview article which will give you tips on how to optimise your system's security.
8.2. Monitoring very large environments
If your monitoring has reached an order of magnitude where you are monitoring thousands of hosts, or even more, architecture and tuning issues become interesting. The most important topic here is distributed monitoring. With this you work with multiple Checkmk instances that interconnect into a large system — which may even be distributed globally.
8.3. Availability and SLAs
With the availability module, CMK can very precisely calculate the availability of hosts or services in specific time periods, how many failures occurred — and their durations, and much more.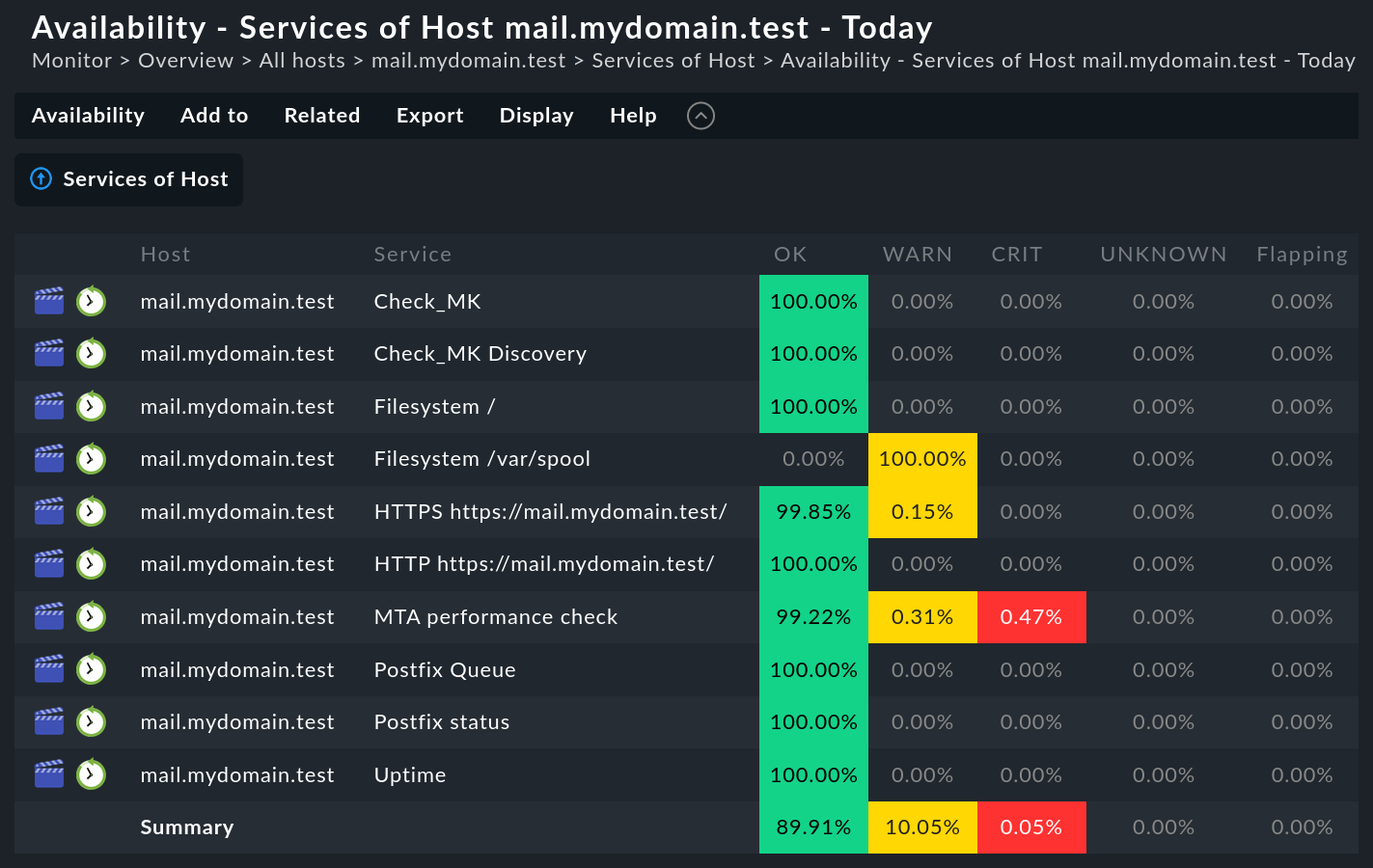 With the SLA module included in the
Checkmk Enterprise Editions, Checkmk can verify compliance with service level agreements, and even actively monitor these.

8.4. Hardware and software inventory
The hardware/software inventory does not really belong to the topic of monitoring, but using the already installed agents Checkmk can provide extensive information on the hardware and software of your monitored systems. This is very helpful for maintenance, license management, or the automatic loading of data into Configuration Management Databases.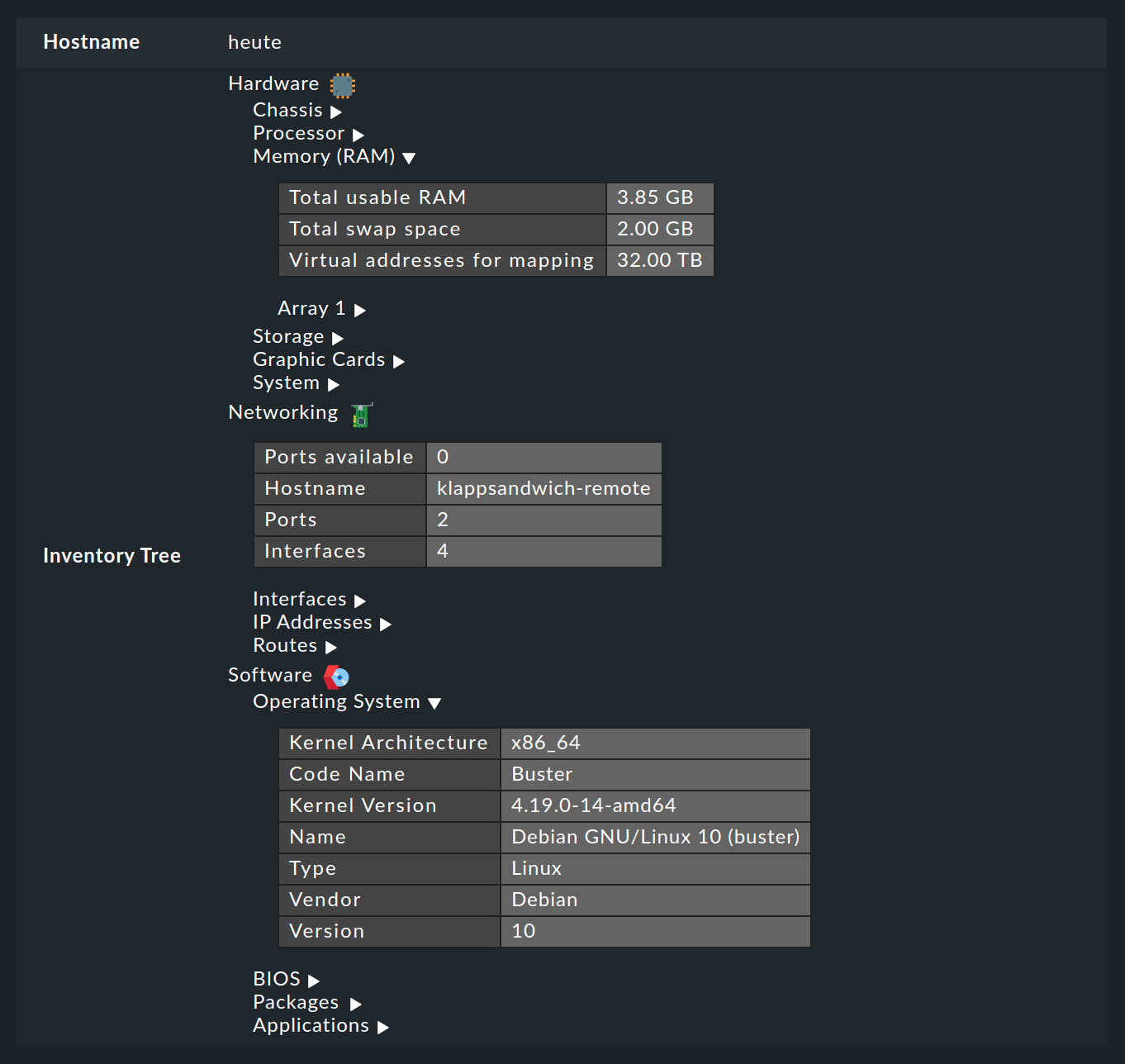 8.5. Monitoring messages and events
So far we have only been monitoring the current states of hosts or services. A completely different topic is the evaluation of spontaneous messages which, e.g. appear in log files, or are sent by syslog or SNMP traps. Checkmk has a complete, integrated system called the Event Console.
8.6. Visualization using maps and diagrams
With the NagVis add-on integrated in Checkmk you can represent any states with maps or diagrams. This is great for creating appealing overviews — for screens in control rooms for example.
8.7. Business Intelligence
With the Business Intelligence module you can derive and clearly present the overall state of business-critical applications, based on the many individual status values provided by Checkmk
8.8. Generating PDF reports
The reporting module Checkmk included in the
Checkmk Enterprise Editions enables the creation of PDF reports for clearly displaying information on past periods, events, availabilities and much more.
8.9. Automatic agent updates
If you monitor many Linux and Windows servers, you can keep your monitoring agents and their configurations at the desired level with the agent-updater contained in the
Checkmk Enterprise Editions, from a centralised base.